The Warehouse Main Role
Impose Control Over Material
Preserve it in Safe Place
The Sewer Contractor in Saudi Arabia would run multiple systems to tighten the control on his company warehouses, whether they are temporary or fixed ones. Its role is to preserve the material safe until it is being used and to regulate receiving and sending it between the company's various locations and job site.

It's easy to succeed in managing this important department. You need both strict and precise system to follow, in order to manage receiving and storing the material. Also you need experienced staff that can understand their job importance, which includes receiving, storing, picking, packing and sending the material to its destination.

The truth behind the good management lies in the method of coding and recording the stored material in detail. The implemented system should be able to determine the minimum and maximum range of each item ready for use, whether it is for the head office departments and job sites.

Also, it must warn the users when there is an overrun in the ranges of a material. It should offer the possibility of revealing the balance of any material in all the stores at the same time.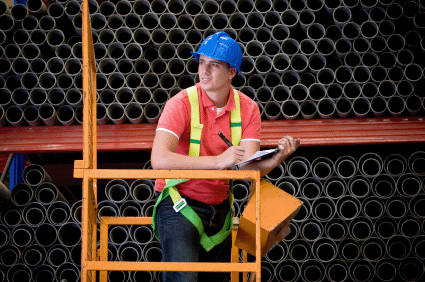 Depot's structure is built on proper information, starting by holding a product card for each item and a record showing its movements. Through a comprehensive and precise documentation cycle such as (material receipt voucher (MRV), material issue voucher (MIV)) we can impose well control on our material. As a result, the whole structure should provide us with a real data and accurate financial information about the material.

The management should conduct a physical counting regularly for all the material in its stores. It is important for the management to discover any imbalance between the actual material, and what is registered in the records.

Therefore, the management should compose a committee for inventory, which consists of an accountant, supervisor and engineer to do a physical counting and matching of the records. If any difference is found, then the accountant and the store manager will have to adjust it, and penalize the responsible party for that fault.
Return From Warehouse Page to Company Departments Page
Return From Warehouse Page to Sewer Contractor Management Guide Page